About me
I'm Iti Das, a professional abstract Artist based in Ealing, West London. The artwork I produce is original, using high quality materials. My work is essentially a reaction to many years prior spent in and around the forms of Canary Wharf and the City, where I have fulfilled roles of a commercial nature, until one day my passion for painting decided to take centre stage.
I am therefore self-taught and drawn to many genres of art. Thirty years ago I derived my inspiration from the likes of Dali, where my early work took on many forms of appreciation. Now I tend to follow my own intuition, creating more fluid pieces that do not necessarily pay homage to any specific artist, but there may be the occasional trace of influence!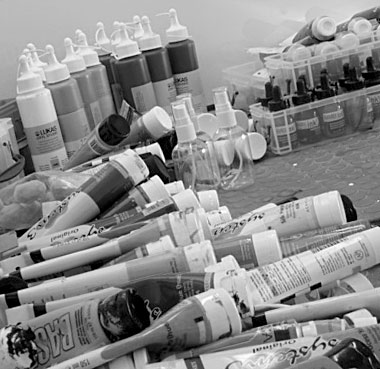 How I work
I converted my loft to a studio a few years ago in preparation for launching Iti Das, where my preference is to paint on big canvases, using mainly oils and acrylics. When creating my own work that is not tied to a brief, I am guided by a more instinctive style, driven by how I am feeling at that time to allow the art to build and take its natural direction.
Commission pieces are more structured, taking guidance from your ideals more than mine. Commissioning abstract artwork may sound risky as it's not like producing a mirror image of a photo or a landscape you want re-created in paint, so defining your generic likes such as colours, artists, techniques etc. can help enormously to reducing risk of producing a piece that is not you. There is a fine balancing act between creating freer forms of paint application using a variety of methods (brushes, drip techniques, layers) against your list of wants/don't wants – getting it right is why I love this so much!
My inspiration
This is difficult to answer without writing pages, so simply put, to create art for people that they never grow tired of. Having worked in many sterile office buildings that often had beautiful architectural exteriors but lacked warmth and engagement inside, to be able to create artwork that generates a silent thought, a smile, a grimace (!), a discussion, a reaction...that's what inspires me.